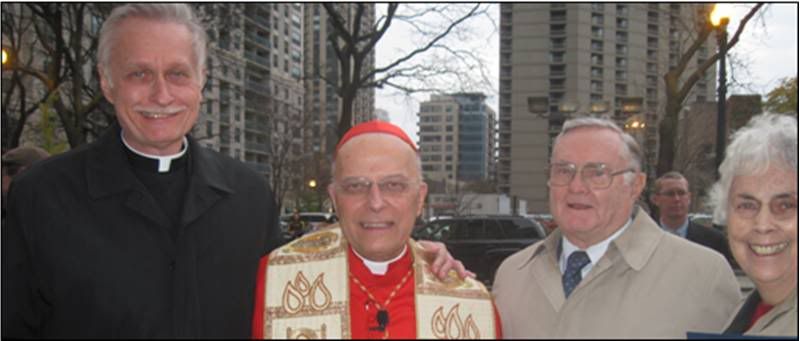 Msgr. Jim Kaczorowski (left), Francis Cardinal George, Jim and Ann Malone after the Christifideles Award celebration. Jim and Ann were acknowledged for more than 60 years of service to Queen of Angels.
MALONES AWARDED CHRISTIFIDELES HONORS
On Sunday, members of all churches in the Archdiocese of Chicago gathered at Holy Name Cathedral for distribution of the Christifideles Laici Award. This award is given to lay people who have demonstrated by participation in parish life, the personal and ministerial renewal called for by the Papal Exhortation, Christifideles Laici. This calls laity to the vocation of responsibility for the Church's life springing from the gift and mission of their baptism. Individual parishes nominate honorees.
Awardees are to be practicing Catholics who manifest an understanding of the teachings of the Church and have been graced with a life formed in the Catholic Spiritual Tradition. Individuals have used their talents to deepen the life of the Church in the parish or have served in an extraordinary way the ministry of the parish.
Jim and Ann are "salt-of-the-earth" people who have truly lived the gospel. For more than 60 years, they have ministered to the parish in a myriad of ways. During the last six years they have been Eucharistic Ministers, Ministers of Care (visiting the hospital-bound) and Nicodemus Ministers (accompanying family members and their loved ones to the final resting place), as well as members of our Parish Counting Team.
To those privileged to personally know Jim and Ann, this award comes as no surprise. Together they manifest the "heart" of Queen of Angels, asking "how can I help another" rather than "what's in this for me?" God bless Jim and Ann for their years of loving service. Queen of Angels is blessed by their grace.